Masiphumelele
Masiphumelele township is in many ways a post-Apartheid township that has grown rapidly hedged between the Cape Town suburbs built out on the Cape Peninsula. It is surrounded by communities with names like 'Sun Valley' and 'Ocean View',' 'Capri', and 'Crofters Valley'
Initially known as Site 5, the township was renamed Masiphumelele by its residents, which is a Xhosa word meaning "We will succeed".
About 400-500 people first settled in the area in the 1980s. During apartheid residents were continually removed to the suburb of Khayelitsha, over 30 km away, but the numbers began to grow as apartheid began to unravel from 1990.
In 1990, about 8000 residents lived in the area, mostly in shacks, but by 2005, over 26000 people live there, many in brick homes. In 2010, the population was estimated at 38000. Many are from the old Ciskei bantustan in the Eastern Cape.
Amenities are scarce, with an overcrowded school, no police station, high levels of crime and an understaffed day clinic, while it's estimated that 23-25% of the community are infected with HIV/Aids and/or TB and unemployment at 70-80%.
Winter rains threaten to flood shacks located on wetlands and in summer fires threaten to destroy close packed informal homes. 1500 burnt down in one night in 2011 (see here for photographs).It was affected by xenophobic violence against immigrants in 2008 and issued a public apology to foreigners terrorized out of the community and invited back. Desmond Tutu is a frequent visitor (see Wikipedia and Living Hope and the South African Independent Online 2 July 2008). (See also the Love and Care Centre and videos on next page: Voices of the townships.)
Masiphumelele was officially adopted as part of Cape Town in 1992 and it is no longer an 'informal settlement'. The City has provided many basic amenities – water, sewerage, electricity and some paved roads. There is a primary and secondary school and a health clinic. There are a number of brick and block built houses but about 90% of residents live in shacks. The extract below is taken from the excellent Masicorp NGO website.


Living in a shack? – until you see it for yourself, it is difficult to appreciate, even with the best of descriptions. Here follows our guide to getting started: First, find a plot of land on which to build your shack – not easy because every square metre of land seems to be occupied. If you are very lucky you may find a corner somewhere that is not locally owned and for which you will not have to pay a ground rent. More often, you will find a space in a plot owner's garden [yard] and for between R350 to R450 per month you can rent.
Now find some 'building materials'. Anything will do. For example; old wooden pallets on-end for the walls with plastic sheeting nailed to the outside to keep out the wind and cardboard cartons pinned to the inside to keep out the cold. A few sheets of corrugated tin and some wood to support it are needed for the roof, as are a few big stones on top to help keep it place in the Cape storms.Next, scrape the earth floor flat and try to find an old piece of rubber-backed carpet which may help keep out the damp.
Cooking – with a camping gas stove or possibly electricity. If you must take your electricity from the plot owner's supply, it will cost about R100 per month. If you can get connected direct, it will cost less.

If all you can afford is a single room shack, then you have enough space for one double bed, something on which to stand your cooktop, a small refrigerator, probably with an old TV on top, and some cartons and suitcases for all your worldly goods.
Water from a stand pipe and a toilet will be within 50 metres and shared with many others – queuing is a way of life.

Heating in the winter is necessary and the cheapest form is a paraffin heater – the shack is not well ventilated in any event and paraffin heaters put out heat and a lot of moisture. So they keep you warm, but they contribute to the many respiratory health problems people in Masiphumelele suffer.
Your shack will be in very close proximity to many others – a few centimetres - and this brings a need to be neighbourly and to help look after one another's shack and possessions. A robbery can be devastating for people with so little. A fire can spread at lightening speed and become a disaster for many. Keeping a good look-out is also a way of life.
Most Masiphumelele families, of up to 5 or 6, live in one or two roomed shacks similar to the above description. Sleeping is by rota in the bed.
But what of life?......
A typical Masiphumelele family: If they are lucky the mother will have some domestic work cleaning houses - say 3 days per week which pays about R1400/month. Father will have no permanent job, so, every day, before 6am, he walks to the big road junction outside the township where, with hundreds of others, he stands hoping to be given a day's work by passing trades people. He may earn R1500/£116/€148month.

The family; 3 children, one pre-school for whom they have a place in a crèche [R150/£16/€14.8month] to allow them to work or look for work and two children at the primary school. There are no fees for the school but they must find money for uniforms and school meals etc.
Living in the shack costs them R550/month, plus transport for the Mother to get to work at R250/month and then there are clothes, shoes and toiletries to be found. Not much left over for food – perhaps R1500/month for 5 people – R10 (£0.78/€0.99) per day per person.
Not surprisingly, most families rarely eat meat or fish – on Fridays at about 5pm they can be found buying food for the weekend and chicken skins and chicken feet is often the best they can manage.
Imizamo Yethu
(Xhosa for 'our combined effort') is an African township outside Hout Bay on the Cape Peninsula. It was designed for 2,500 but hosts 18,000 South Africans – maily xhosa from the Eastern Cape, originally attracted by the possibility of work in the fishing industry. and refugees and migrants from Angola and Zimbabwe.
A shack fire left ripped through the township in 2005 leaving 5,000 homeless
The total site of 34 ha can accommodate between 1300 and 2000 formal low cost houses based on the South African standard for low cost housing density of 40 units per ha. This would leave 12000 people living in over-crowded informal housing and in according to the Mayor of CT in 2007 Helen Zille the area
Requires 'de-densification' and a major population shift to other areas of possible township housing – for example, Mitchell's Plain to the north of CT. Higher density housing is considered too expensive to re-house township residents given state housing subsidies.
Please also see my case study of Imizamo Yethu and Hangberg townships at Hout Bay which is nested within my Jikeleza Dance pages.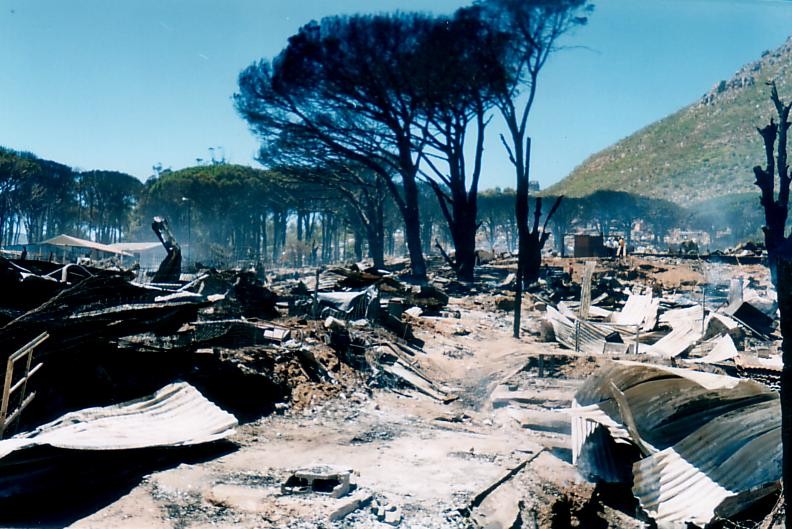 A local partnership between local white traditionally anti-apartheid community and the African communities has been hailed as setting a way forward for inter-racial relations.   Local estate agent Anne Porter reckons the township, whilst having the problems of many townships, is less blighted by crime than bigger townships and is a place of hope
Not surprisingly though IY is also a place of hope. Many of the residents believe they are far better off here than they would be back home. Being in a richer suburb really does make it easier to find employment and if you are willing to try hard enough there are hundreds of jobs available either as domestic workers for the 22 000 middle to upper class people living nearby,(not to mention the families in areas like Constantia and Camps Bay only 20 minutes away) or in restuarants and hotels catering to the booming tourism industry, or on the several building developments or even in the busy fishing trade. See here for source
Interestingly, residents will eventually get title deeds for their houses and after a waiting period be able to sell them on.