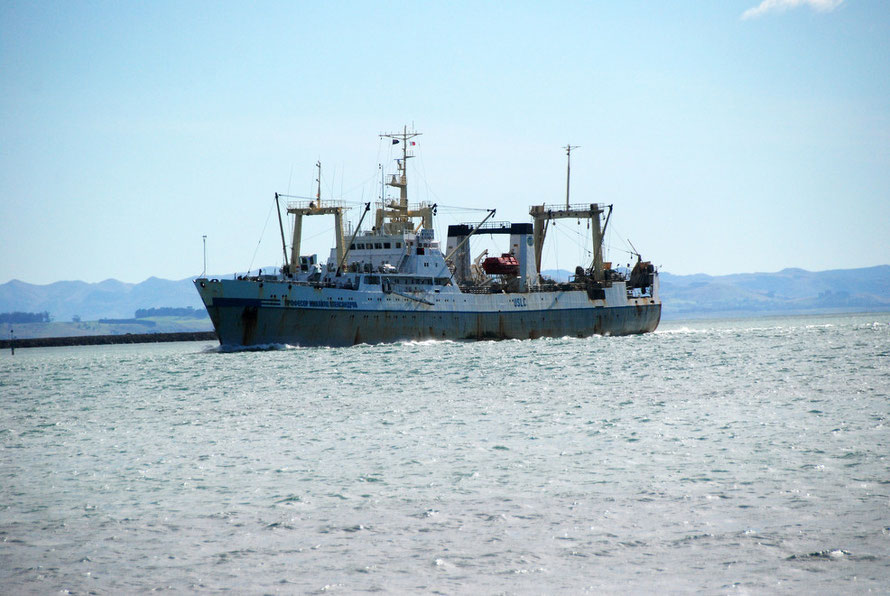 On my travels around the South Island of New Zealand I noticed a few big deep-water fishing boats. One chugged past when we were out on the other Otago Peninsula. It was called the Professor Mykhaylo Aleksandrov.
When I looked it up I discovered that it was crewed by Ukrainians working six month shifts in the Arrow Squid and Jack Mackerel fisheries.
Another boat was tied up at the Dunedin wharfside. This turned out to be  Melilla 203. Registered in Korea and chartered to United Fisheries its 27-man crew alleged short payment, poor conditions and abuse in 2011.
It's sister ship, Melilla 201, has had papers filed against it at the High Court in Christchurch by the NZ NGO, Slave Free Seas, alleging that the 35 Indonesian crew are owed more than NZ$1 million in wages, which it says they are entitled to under New Zealand law (see Stuff.co.nz).

The other boat I happened across was the ominously-named, GOM 379 ,at Bluff Harbour. This is another Korean vessel working as a Foreign Chartered Vessel in New Zealand.
The whole issue of conditions on foreign-owned fishing vessels working in New Zealand waters first came to light in June 2011 when the 32-man Indonesian crew of the Oyang 75 walked off their vessel protesting about their treatment and wages (see Stuff above).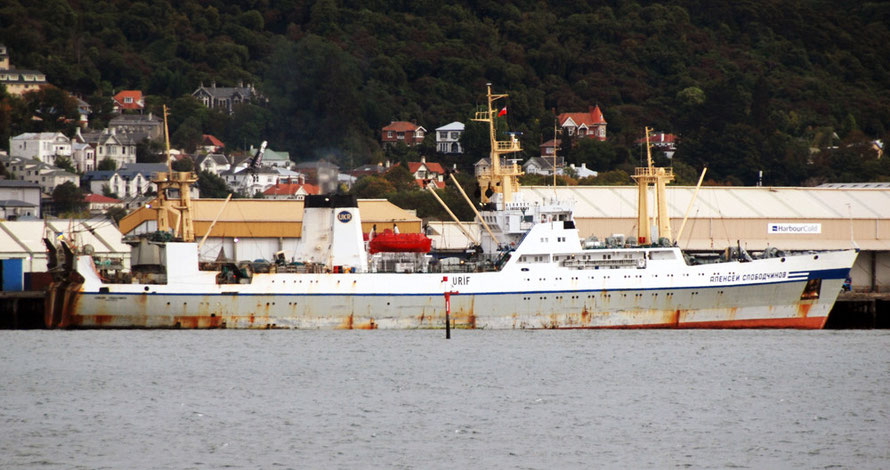 New Zealand has a huge Exclusive Economic Zone (EEZ) of 4 million square kilometres - the fourth largest in the world (Te Ara).  This is enabled by the zones extended from NZ's sub-Antarctic Islands to the south (Auckland Islands and Campbell Island) and south east (Chatham Islands) of the country and to the sub-tropical islands to the north (Kermadec Islands).
This zone comprises the main southern section of the sunken Zealandia continent and is characterised by continental shelf seas that are rich fishing grounds (Marine Biodiversity of Aotearoa New Zealand).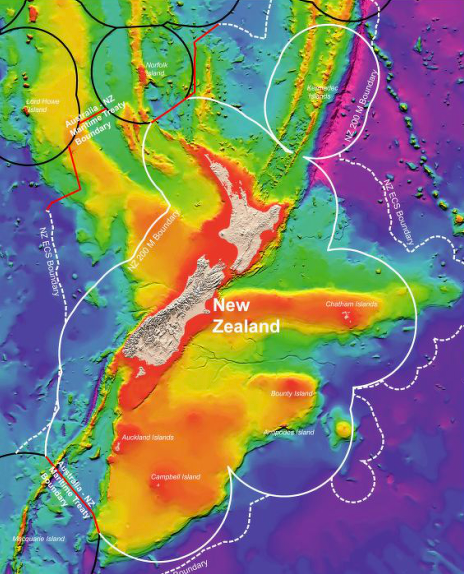 Over half of New Zealand's fishing catch is brought in by the 27 Foreign Chartered Vessels in the New Zealand fishing fleet.
The use of Foreign Chartered Vessels in the New Zealand fishing fleet has become a scandal and is to be outlawed from 2016.
Interestingly one Maori iwi, New Zealand's biggest, the Ngapuhi has lobbied for an exception to this new regulation.
Peter Talley, chief executive of Nelson-based, Talley's Group, said if the bill passed into law with the Ngapuhi exception, New Zealand would face international boycotts.
"It is a national scandal that Maori, given settlement quota for the purpose of bringing young Maori into the business of fishing, are now given a preferential right to use Third World foreign labour to harvest those very resources," Talley said (see  Slave Free Seas).
GOM 379

'GOM 379', which turned up in one of my photos of Bluff Harbour,  turns out to be a Republic of Korean (KOR) flagged stern trawler fishing vessel of 60 metes length and 700 gross tonnes built in 1974.
It is classified in New Zealand as a 'Limited Processing Vessel' allowing it to catch and process fish whole and 'headed and gutted' for export. The 'GOM 379' can freeze about 9.5 tonnes of product every 6 hours (about 38 tonnes per day) and can hold up to 450 tonnes of product before it must return to port to discharge.

On 14th July it was steaming up and down a section of the Tasman Sea about 120km offshore of Greymouth, probably fishing for hoki and squid for which it has an Annual Catch Entitlement (ACE)  (see AIS Live Plot below).
The GOM 379 is chartered by Northland Deepwater which is a joint venture between Te Runanga A Iwi O Ngapuhi (see my page on Maori social investment) and DSM Ltd established in 1994.

The Indonesian crew will typically stay on board for either a 1 or 2 year contract term in line with the terms of their NZ Work Permits. ... After the first year the Indonesian crew can, and some do, return home for a holiday – typically for 1- 3 months – then re-join the vessel on a renewed Visa.
Phil Smith, manager at Northland Deepwater, which charters the GOM 379 asked two of the longest standing crew members on 30 July 2011 if there were any issues with their pay or their hours of work.
One replied  "No, all OK". Smith specifically asked if they were aware of any problems with the newer crew. The same crew member said all crew, "Old crew, new crew - all happy".
(Quotes above from SUBMISSION TO THE MINISTERIAL INQUIRY INTO THE USE AND OPERATION OF FOREIGN CHARTERED VESSELS from NORTHLAND DEEPWATER LIMITED PARTNERSHIP October 6 2011)
On 7th May 2014 3 News reported that a crewman on the GOM 379 had died.
The crewman died on Monday while retrieving a fishing net when the ship was in the Southern Ocean, 65 nautical miles north of the Auckland Islands, or about 380 nautical miles south of Bluff and within New Zealand waters.
This was after the Report of the Ministerial Inquiry into Foreign Charter Vessels (FCVs) (2012) that made far reaching recommendations into the regulation of FCVs, which account for half of all the fish catch in New Zealand's Exclusive Economic Zone.

Amongst other things the report recommended that the Health and Safety Act be extended to cover FCV chartered by New Zealand companies working in New Zealand waters. I find it absolutely shocking that this fundamental right and protection was not already in place in 'decent'  New Zealand. It is also something that Maori iwi through their Waitangi fisheries agreements are often heavily implicated in this trade.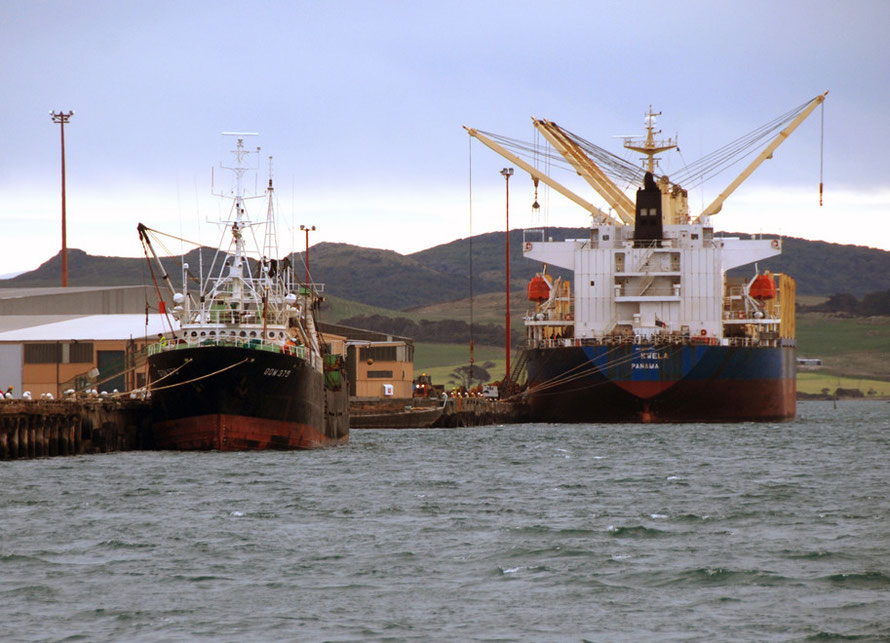 Excerpts from the Report of the Ministerial Inquiry into Foreign Charter Vessels, 2012 pp. 7-8
Today, the 27 foreign vessels chartered by New Zealand companies are a significant part of the EEZ fishing fleet, accounting for over half of the EEZ fish catch volume landed in New Zealand. (My emphasis)

It is argued by some that FCVs are operating at an unfair competitive advantage over domestic vessels. It is further claimed that the use of FCVs has undermined investment in the domestic fleet, artificially inflated quota values and reduced employment opportunities for New Zealanders.
Criticisms have been directed not just at the foreign owners and operators of the vessels in question but also at the New Zealand charter parties concerned for failing to ensure that their obligations under the Code of Practice on Foreign Fishing Crew are met. Criticisms have also been made of weaknesses in the government's monitoring and enforcement regime.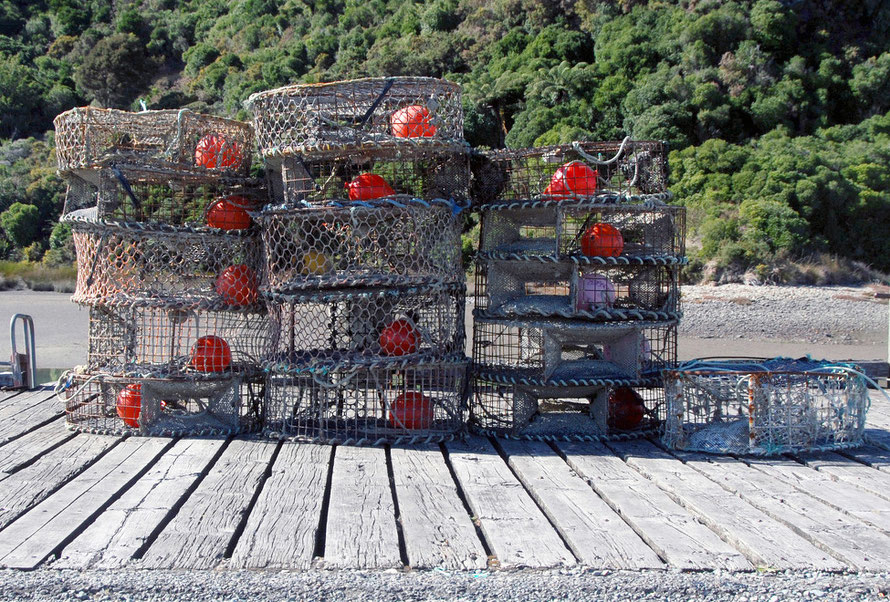 The Panel has concluded that urgent corrective action is required in the way New Zealand regulates the activities of FCVs in its EEZ.
The first set of recommendations deals with changes that can be implemented within the existing legislative framework.
The second set of recommendations involves improvements in the sharing of information, co-ordination of decision making and co-operation in enforcement among key government agencies.
The third set of recommendations relates to amendments to the existing legislation and Code of Practice covering FCVs. The recommended amendments will remove some of the current impediments to the enforcement of New Zealand's rules and enable agencies to take decisive action when rules are breached.
A key recommendation here is extending the application of the Health and Safety in Employment Act 1992 through the Fisheries Act 1996 to provide protection to crew on board FCVs.
The fourth set of recommendations is that New Zealand should announce its intention, subject to a national interest analysis, to ratify two key International Maritime Organisation conventions (Torremolinos Protocol and SCTW-F). It is also recommended that the merits of ratifying the International Labour Organisation (C188 – Work in Fishing) convention be considered.
The fifth set of recommendations involves a major policy change. We have recommended that legislation be amended to require all FCVs to be placed on a demise charter and their crew to be employed under a New Zealand employment agreement. This would establish the accountability of New Zealand charter parties for the treatment of crew. (My emphasis)

But with a 'transition period to enable the fishing industry to adapt to these changes' p. 8.
Mussel Farming
Economic value: Mussel aquaculture from about 1,018 farms produces about 101,311 tonnes (2011) with exports of 38,143 tonnes in 2011. The combined domestic and export value of mussels is $253.1m (2011), with exports making up $218.1m (2011), this was an increase of 30% in exports from the previous year. About 70% of production comes from Marlborough Sounds, about 20% from Coromandel, 3% from Tasman-Golden Bay, 3% from Stewart Island and 2% from Banks Peninsula (see Forest and Bird).