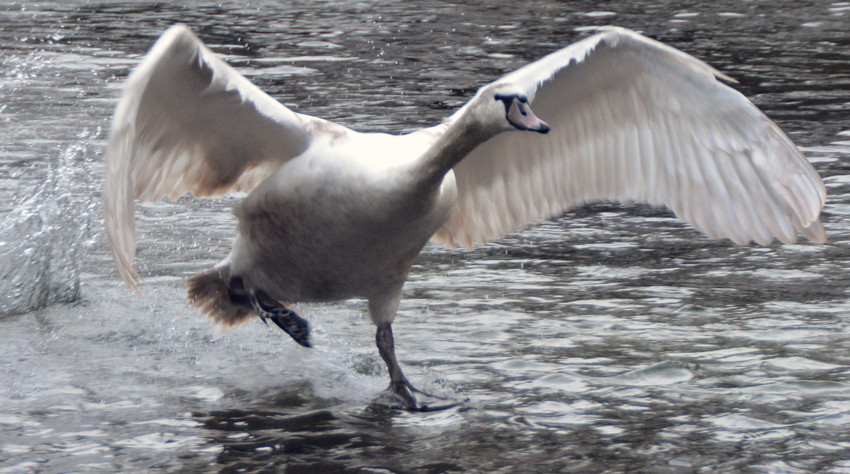 I was pottering around the Kearnsney Abbey (it wasn't actually an Abbey) grounds where chalk streams run out from the North Downs above Dover. I'd taken the car to the garage for a service and thought I'd wrestle with a few more options on my camera. I did stuff like White Balance and ADL bracketing. The grounds were muddy and pretty uninspiring but I took a few shots of swans supping water from a shallow puddle and their reflections.

By  one of the upper ponds - they used to drive corn and paper mills - I got chatting to a woman with a huge lens. She said her holy grail was to get a brilliant shot of the local kingfisher. We saw the elusive bird as it swerved out into traffic and she pointed out their favourite perches for fishing for minnows. She was an ex-press snapper and now did painting and decorating for a living. 

Out of the corner of my eye I saw these three swans  take off and fly towards us. Rather sheepishly I hoisted my camera up and took a shot of them as they practically flew into us. All the settings were wrong and I was stuck on single shot. And my camera suddenly seemed puny next to the giant birding lens. And I felt more like a dilettantish 'grabshot' amateur than usual against her kingfisher mission.

I had lots of interesting pictures today from the sun through clouds on the headland to those reflections. But I went for this cropped down version of swan flight because the swan  (a juvenile that will be soon be shooed away from Kearsney by its parents) had a fantastic majesty about it as it came into land, skidding on that foot.

They'd looked so clumsy on land, their big feet slapping on the tarmac path, and here it was - a young one with not many flight hours - careening down beside us. Maybe not a kingfisher but it kind of won my heart today.
The swans seemed so innocent, despite their size and power. As I got back into the car and drove home from the garage the Charlie Hebdo massacre in Paris was breaking on the news.